---
March 12, 2007 · File under Electronics
If you're going to spy on your baby, this is great for audio, but this is crap for video.
I converted a webcam to see infrared light, and wrote how.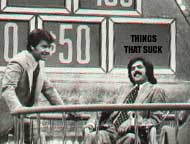 A collection of posts about things that suck, and posts that suck about things that don't suck, and busywork and argle-bargle.
RSS feed
@efredricksen
@efred
efredricksen
grumdrig (gh)
grumdrig (bb)
efredricksen
©2018 Eric Fredricksen